He said that they did discuss the California wildfires when they met, and that he told Trump "we take care of our forests".
Mr Trump said California authorities should copy Finland's example and rake forest floors to remove the material which fuels fires.
Beyond the fact that Finland's president insinuated this conversation about raking happened exclusively in Trump's mind, perhaps at the very moment the words fell out of his mouth, it is not the first time Trump has mentioned raking in relation to California's fires. "I hope the president consults some experts, maybe talks to folks who actually know something about wildfires, and really stop believing these weird theories that he has".
"Raking is not normally included in the Finnish forest management's tool range", a translation of the Ilta-Sanomat article says.
While many have made light of Trump's Finnish "raking" claims, the wildfires that have swept across California have taken a devastating toll.
The Finnish President told the newspaper that he meant to convey that although Finland is covered by forests, the nation has a good monitoring system which has helped to prevent catastrophic wildfires.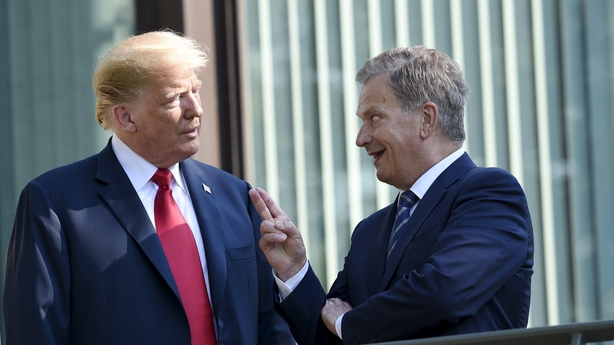 Donald Trump and Sauli Niinistö in Helsinki this summer
"The president not only has signed a presidential declaration giving California substantial funding, but he said and pledged very specifically to - to continue to help us", Brown told CBS's "Face the Nation" on Sunday.
"You look at other countries where they do it differently and it's a whole different story, Trump told reporters on Saturday".
"I was watching the firemen the other day, and they were raking areas". "They don't really rake the forests in Finland". "And they're raking. little bushes, that you could see are totally dry, weeds". "You wouldn't have the fires".
Finns have been left bewildered by US President's Donald Trump's suggestion that California should copy Finland in raking forest floors to prevent future wildfires.
"Here I am just #raking around as all us #finns do to prevent forest fires", one Twitter user, Lida Korhonen wrote, sharing a gif of a group of people raking leaves.
The president also visited devastated Malibu but declined to comment on whether climate change specifically was behind the wildfires.