Nadine was clearly the member with the strongest voice as evident by the amount of lead vocals that were thrown her way and she reckons this caused some resentment from the other members.
The former Girls Aloud singer has admitted she has a "superstitious" ritual whereby she has to scoff some form of the starchy carbohydrate before she goes on stage to perform because it gives her the energy she needs to get through hours of singing and dancing. She recalled: "I thought we were going to continue". She said: "Could we work together?"
When asked whether the Sarah "CBB" viewers saw was an accurate representation of her, Nadine insisted: "That's Sarah!"
Despite the tensions that arose, Nadine says it wasn't what she wanted and she desperately wished they could all get along.
Go To Work is available to stream and download now, and is just the start of what Nadine has been hard at work on over the past few years. It just happened that I always got more vocals than everybody else.
Popstars - The Rivals winners, Girls Aloud, from left to right; Nicola Roberts, 17, Nadine Coyle, 17, Sarah Harding, 20, Cheryl Tweedy, 19, and Kimberley Walsh, 20, pose for photographers in front of their poster in east London.
But for the first time ever we now know exactly why their successful group broke down and why some of them lost their friendships.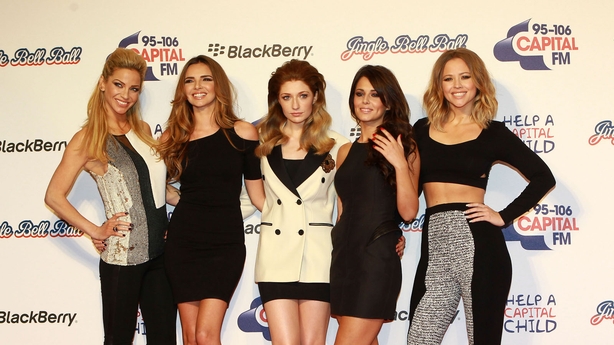 Girls Aloud before they split in 2013
It made people, very bitter.
"It's so sad for me to admit this stuff now because for so long there's the band, and you want everybody to think we're best friends and we have pillow fights and, you know, drink milkshakes".
The mum-of-one - who has just released her new solo single Go To Work - said: 'I really, really wanted that to be, but it just wasn't how it was.
The 32-year-old told The Sun's weird podcast: 'It was fine at the start but there's always politics in any band. I really, really wanted that, but it just wasn't how it was.
'So yeah there was [a divide]. "It's exciting", she said. "We're all very, very different characters", added the star.
And she concluded by saying: "If I was there, no one would DARE utter a bad word to her!"
While speaking on The Sun's Bizarre Life podcast, the Derry-native implied that it all came down to whose voice was heard most often.